Blackbutterfly Talk for Today
February 8

, 2010

Brad Pitt And Angelina Jolie SUE Over Split Claim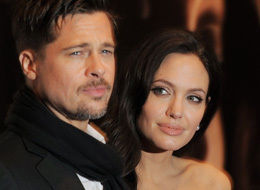 "LONDON--Brad Pitt and Angelina Jolie have begun legal action against a
British tabloid
that reported the celebrity couple was going to split, a lawyer acting on their behalf confirmed Monday.
Keith Schillings, of London-based Schillings lawyers, said in a statement that the couple had begun
legal proceedings
against the
News of The World
, a Sunday tabloid and Britain's highest selling newspaper."
~~~~~~~~~~~~~~~~~~~~~~~~~~~~~~~~~~~~~~~~~~~~~
Good Day! ~~ Blackbutterfly Poetry & Art family and friends, and all who are here. Welcome to Blackbutterfly Talk for Today. My comments today, will be about "relationships"...and the various articles we see, (as above), about our more famous "celebrity couples"...in view of the media. As you probably know, nothing really changes with "how the media works"...its way into the personal lives of men and women, in married couples, divorcees, new engagements, and every other aspect of personal relationships; and can totally wreak havoc in our daily lives. Unfortunately, being "a celebrity" makes you a prime target for the exploits of the media. No matter whom you are. One day, it's the couple above. The next day or week, it will be another person or couple, (well-known), whose personal life and character, will be publicly "judged" (by the tabloid/media invaders), and then overtly talked about; and printed in all the (attention grabbing) TV headlines, newspapers, and on the Internet.
It is outrageous that the media has been doing this....since the beginning of the "media exploitation era", which I consider, got its jump-start with the Bill Clinton-Monica Lewinski scandal. Or maybe even before, when Michael Jackson was accused of "child-molestation" back in the early 90s....and not to forget... the much publicized saga, and trial that ensued in our Supreme Court, Justice Clarence Thomas. Since those days....
no one, and I mean no one, in the "Rich and Famous" lifestyle
... has total privacy, behind closed doors.
Never mind hanging the "DO NOT DISTURB" sign. That one has not been working in a very long, long time. Unfortunately, and only "after the fact", when the 'Media-Invaders', have seized (sometimes illegally), the space of our privacy.... is when the "Laws that be", start to be recognized. I can only imagine the anguish, turmoil, and humiliation these group of people face. Being in the "spotlight' does have its faults.... (that's even more-so, an understatement these days). I would rather not be in the world's spotlight of the current day; because of the vague cloud of circumspection. But if I just happen to be there one day...I will most assuredly, remain courageous and will stand firm...and battle whoever and whatever, to retain my "good-name", personal freedom and dignity, as well as defend my loved ones, when necessary. I would not hesitate to take the proper course of defense, of my Civil Rights and Privacy Rights.
I am impressed with the fact that the 'Pitts' have decided to take action....in their own best interest, in this case. This will perhaps discourage the "main-stream media", (and tabloid publishing companies)...to some degree. Maybe this will be the "risk-factor" for them, in deciding whether to print "front-page" articles, based on rumors, lies, and mere speculation (heresy). There is far too much disregard to the "truth", and far too little respect to the "privacy" of the people being targeted.
I fervently write about particular topics/reports, (in the news), that I feel strongly about. Everyone deserves their
Right-to-Privacy
, and should not become victims of the "gossip" sown by the tabloids, "paparazzi", etc. When I come across an article like this, I think it warrants a certain admonishment, of compliments and/or criticism, pertaining to the overall message it conveys to the general public.

Especially, when the validity of the statements made, are highly questionable, as being "True". When it causes frustration, humiliation, and degrades the character of certain people_ right before our eyes; I just think, this is very unfair! Most celebrities are "looked up to", and perceived as "role 'models". Married couples, like the "Pitts" are certainly favored..."as the perfect couple"... by a lot of people. Their reputations and achievements can be influential to others. Their relationship and marriage is perceived as the type; "what dreams are made of", and the "happily ever after" kind of romance. That's the relationship that most, would like to "have and to hold". It is the "undying love", joy, faithfulness, happiness, and stability of our own relationships that we love...that we cherish. I think it pleases us, in general, to see a "happily married" couple, whose lives are reflective of having a nurturing, healthy, and blessed relationship. It's inspiring and builds faith and trust in our personal relationships...apart from anyone else's.
When lies, rumors, insults, and gossip, are purposely spread like "wild-fire", it can heave irrevocable damage, for an extended amount of time. Therefore, the longer this kind of exploitation continues, the greater the harm it does on a personal level. Ultimately, it can destroy family bonds, cause divorces, and bring about separation in relationships. This certainly doesn't have to be lived with....
~~ That is an "un-necessary" evil, because it only serves to fill the reporter's pocket-book, and so many "trash-bins". ~~ No one likes to read a bunch of lies, really. ~~
In this case, I hope others (who have been slandered, in the same way), will follow the Order of Justice, as Mr. Brad an Mrs. Angelina Pitt_ to personally fight-back, and seek closure and recompense (compensation), for the negative effect, and potential destruction, that this kind of false-reporting, has on the well-being of relationships. I hope the "Bradgelina" marriage remains the best… as they "hope and have faith"… in their devotion to one-another and their children.
God Bless,
Vannessa Garrett
Blackbutterfly Talk for Today
Article*Reference: www.HuffingtonPost.com
~~~~~~~~~~~~~~~~~~~~~~~~~~~~~~~~~~~~~~~~~~~~~~~~~~~~~~~~~~~~~~~~~~~~~~~~~~~~~~~~~~~~~~~~~~~~~~~~~~~~~~~~~~~~~~~~~~~~~~~~~~~~~~~~~~~
If you would like to add your comments regarding the topic, you may do so by sending your response to the email address below. (Your comments are considered "non-public" and will be held 'private' in my personal website email.) There will be no display of your comments on this website unless you specifically ask me to do so in your message. I would like to conversate with as many people, and create a positive and inspiring dialogue of conversations, from a Spiritual Perspective. I hope that you will follow-up and re-visit Blackbutterfly Talk for Today. Your interest and thoughts are greatly appreciated. Thanks for your visit today, and I look forward to hearing from you.
Email: vannessa@blackbutterflypoetryandart.com
(Click on the link below to view more
BBPA Talk for Today)
~ Blackbutterfly Talk for Today ~
Copyright © 2010 Blackbutterfly Talk for Today